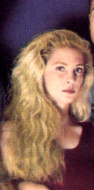 Clara Sue Cutler
Biographical Information
Birth Name: Clara Sue Cutler
Relatives: Laura Sue Cutler (Mother, deceased), Bronson Alcott (Father), Alexandra Alcott (Aunt, deceased), Randolph Cutler (Step-father, deceased), Lillian Booth (Persumed: grandmother, deceased), William Cutler (Persumed: grandfather, deceased), Philip Cutler (Half brother), Dawn Longchamp (Half sister, deceased), Jimmy Longchamp (Brother-in-law, deceased), Betty Ann Monroe (Sister-in-law), Christie Longchamp (Niece), Jefferson Longchamp (Nephew), Melanie Cutler (Niece), and Richard Cutler (Nephew).
Status: Deceased
Occupation: Former evil sister
Appearances: Dawn, Secrets of the Morning, Twilight's Child and Midnight Whispers (Mentioned only).
Portrayed By: N/A
Clara Sue Cutler, is a character in the Cutler Series, by V.C. Andrews she is the secret illegitmate daughter of Laura Sue Cutler and Bronson Alcott. Clara Sue was passed off as the child of Randolph and Laura Sue Cutler, her paternity was never questioned and nor revealed until Twilight's Child. In Twilight's Child, Bronson Alcott openly admits to Dawn that he and Laura Sue had an affair which resulted in Clara Sue's conception.
Clara Sue first appears at the Emerson Peabody school, where she is a cruel bully. Clara Sue and Dawn clash immediately. Dawn is later stunned to learn that Clara Sue is in fact her sister. Clara Sue blackmails Dawn when Dawn hides Jimmy on the Hotel property, but she later tells Grandmother Cutler about Jimmy, and he is arrested. Clara Sue reveals she hates Dawn because Clara Sue was the replacement for Dawn, and would never have been born if Dawn had not been kidnapped. Clara Sue resents Dawn for this, and promises to hate her forever because of this.
Secrets of the Morning
Edit
Clara Sue only appears at the end, when the truth of Dawn's paternity is revealed, she derides Dawn as a freak. It is obvious that Dawn and Clara Sue's relationship has not improved any.
Twilight's Child
Edit
Clara Sue continues to  be a problem for Dawn, after Dawn becomes head of Cutler's Cove Hotel. Clara Sue pulls mean-spirited pranks on Dawn, until Dawn throws her out. Clara Sue then attempts to blackmail Dawn by telling the public about her true paternity. Dawn, in turn tells Clara Sue that her biological father is Bronson Alcott, and this holds her off temporarily. Dawn banishes Clara Sue from the Hotel, and Clara Sue sneaks back in and attacks Dawn in her office, causing the pregnant Dawn to have a miscarriage. Clara Sue runs away after this and even takes a young Christie out with her trucker boyfriend, Skipper, without telling Dawn and later returning her before being told never to return to Cutler's cove. Clara leaves with Skipper in his truck and travels around the USA and later gets killed in a truck accident along with her boyfriend.