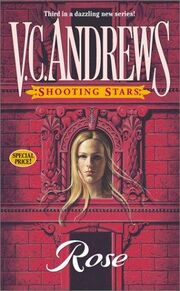 Rose
is the third book in
The Shooting Stars Series
by
V.C. Andrews
, ghostwritten by
Andrew Neiderman
, and published in 2001. The series forges on with Rose Wallace, whose life is turned upside-down after the sudden death of her father. Much to the surprise of Rose and her mother, a mysterious stranger named Charlotte Alden Curtis arrives and invites them to move into her mansion and into a life of wealth and luxury. With no other desirable alternatives, Rose and Monica accept her offer and enter a world where all that glitters is gold. It is in this surreal lifestyle that they discover secrets, deception, and corruption, but also love and hope. At the nearby private school, Rose discovers a natural talent for dance that captures the attention of those who can show her a brand new path.
Synopsis
Edit
When she danced, she could dream...
Beautiful and talented, Rose was the apple of her father's eye. But when he is tragically taken from her, his carefully hidden secrets destroy the only life Rose has ever known—and lead her into a world of luxury unlike any she has imagined. Rose is whisked off to a prestigious private school, while her mother falls into a hateful whirlwind of wealth and greed. But a most unlikely person will show Rose the true meaning of family—and give her the courage to follow her dream....